Blog - Cavitation and process intensification - p2
09/01/2019
ROTOCAV and circular economy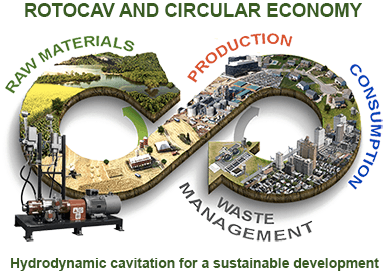 ---
The technological development, the innovation and the research of new solutions are the drivers to implement circular business models.
The conscious choice of the Companies towards the innovation technological development represents the concrete possibility to introduce new tools for profit for the Company itself.
ROTOCAV hydrodynamic cavitator developed by E-PIC S.r.l. is able to optimize yields, to reduce wastes and inefficiencies. By using our ROTOCAV hydrodynamic cavitator you can make the most of raw materials, you can reduce the consumptions and you can reach the maximum exploitation of the resources. The ROTOCAV is able to valorize wastes, for example in the production of biodiesel from exhausted oils, or in the valorization of agricultural wastes with the extraction of biocomponents, such as carotenoids from seeds and peels of tomatoes and oleuropeine from olive leaves.
Our ROTOCAV hydrodynamic cavitator represents the creation of a value towards the innovation, a technology that runs through the ways of a sustainable development.





12/11/2018
ROTOCAV hydrodynamic cavitator at GENP2018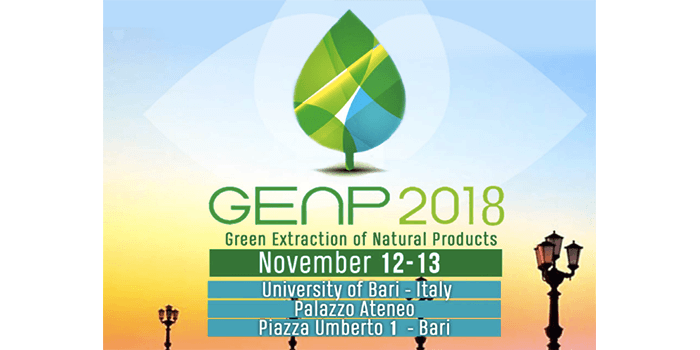 ---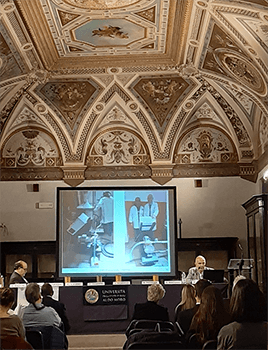 12-13 November - ROTOCAV will be presented as a Technological Innovation at the International Congress on Green Extraction of Natural Product (GENP2018 - Bari - IT).
GENP2018 is focused on agro-food, nutraceuticals, cosmetic, chemical and energy fields. The whole value chain of each application is considered: farming, extraction, purification, processing and recycling steps.
An overview on the most advanced green extraction technologies and sustainable processes will link scientists and experts within and across disciplines from around the world.
The goal of this Congress is to facilitate the interaction between experts from industry and academic researchers, in order to promote information exchange and generation of new ideas that benefit society.
Read the abstract about our ROTOCAV presented at the Congress.





08/11/2018
ROTOCAV at Eurotier 2018 with Cavimax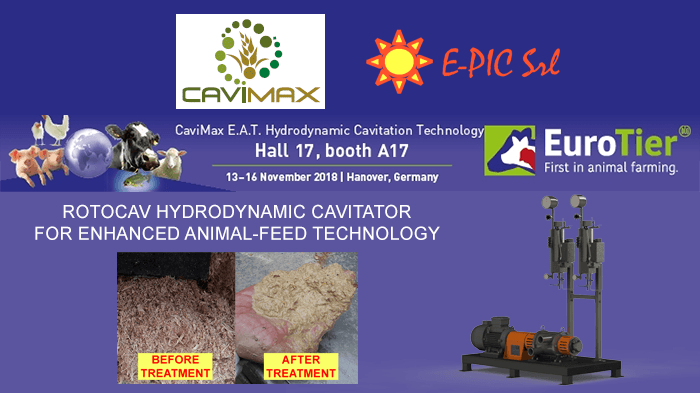 ---
ROTOCAV Hydrodynamic cavitators for enhanced animal-feed technology will be at Eurotier 2018, 13-16 November 2018, in Hannover.
Our partner Cavimax will reply to your questions and explain how a ROTOCAV cavitator can be used to prepare animal feed.
No more wasted crops, animals will grow more, greater bioavailability of animal feed, utilization of maize silage in pig feed, reduction of feeding costs, decrease in mortality, reduction in antibiotic use: these are the main advantages of installing a ROTOCAV cavitator.
For more information and details on the event visit Eurotier website.





16/09/2018
Nature and hydrodynamic cavitation: the snapping (pistol) shrimp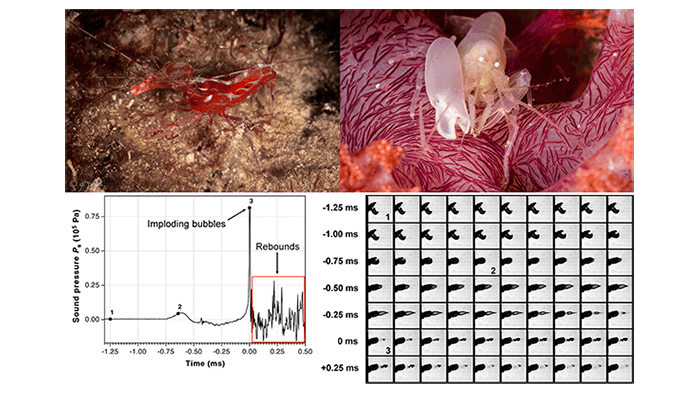 ---
Do you know that nature also uses hydrodynamic cavitation? The snapping shrimp, also known as pistol shrimp, is a member of the crustacean family living in tropical and subtropical areas, that uses hydrodynamic cavitation in its everyday life.
This shrimp, with a size of no more than 5 cm, is characterized by a big claw, which is used as a gun, to stun and kill its preys, usually small fishes, shrimps and crabs, by using hydrodynamic cavitation.
Its enlarged claw, which can be half of its entire body length, can be opened and closed very fast, in less than a millisecond: its particular geometry generates a high velocity water jet, travelling at about 100 km/h; this high velocity jet produces a low pressure area and so a cloud of vapour bubbles which implode on its prey.
The cloud of bubbles implodes at about 3 mm far from the claw, when the pressure of the surrounding water increases.
When the bubbles collapse, local high temperature (several thousands of degrees) and high pressure (several thousands of atmospheres) are generated, leaving no hope to the prey: pressure and temperature are so high that sonoluminescence can happen for few nanoseconds.
Also known as sonic hunting, this is a way to stun and kill preys, without making use of direct physical contact.





10/09/2018
Extraction from cocoa bean shell waste with ROTOCAV cavitator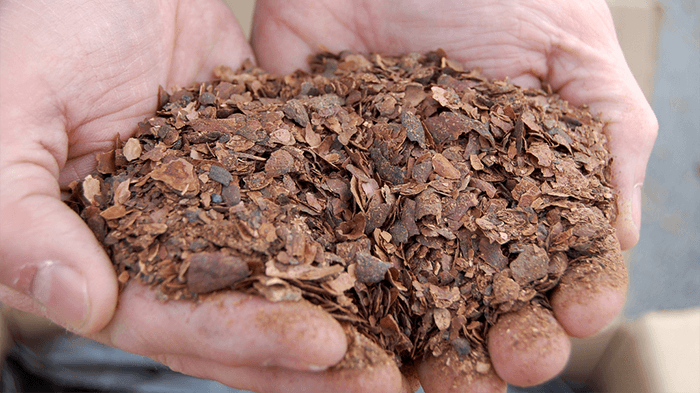 ---
Several tests have been performed to extract high valuable compounds from cocoa bean shell waste with the ROTOCAV hydrodynamic cavitator: results are reported on "Food Research International" and published on Sciencedirect, one of the most important international database for scientific articles.
The present work aimed to valorise cocoa shells, one of the main by-product of the roasting process, in order to enhance the effective extraction of high added value compounds.
It has been demonstrated that cocoa shells are a valuable source of antioxidant flavanols (catechin and epicatechin), methylxanthines (theobromine and caffeine), fatty acids and fibres. The extraction with the ROTOCAV hydrodynamic cavitator gave yields of 15,8% w/w in cocoa butter and 20,5% w/w in hydrophilic compounds, composed mainly of polyphenols and methylxanthines: these were the best results compared with ultrasound and conventional extractions, at laboratory scale.
Boost your extraction process and valorize waste with a ROTOCAV cavitator, choose the best extraction technology!





21/07/2018
What is cavitation and why should I need a ROTOCAV hydrodynamic cavitator?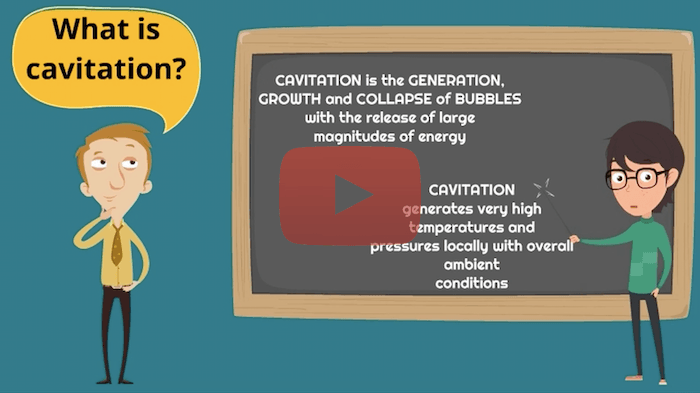 ---
A short video to explain what is cavitation and how our ROTOCAV hydrodynamic cavitator can improve industrial processes: if you need a boost for your process and you want to intensify it, to mix liquids with liquids, liquids with solids and liquids with gases you can exploit hydrodynamic cavitation generated by the ROTOCAV and increase process yields and your product quality.
Optimize mass transfer and diffusivity, promoting turbulence, cavitation and shear stresses, drastically reduce treatment times and hold-up, to obtain products of better quality! Watch the full video!





---