Blog - Cavitation and process intensification
16/09/2018
Nature and hydrodynamic cavitation: the snapping (pistol) shrimp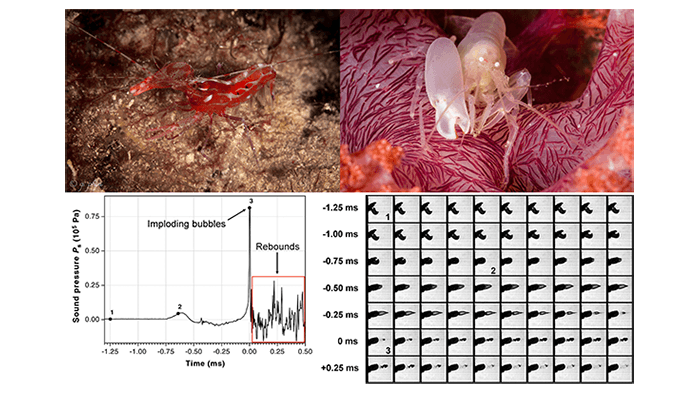 ---
Do you know that nature also uses hydrodynamic cavitation? The snapping shrimp, also known as pistol shrimp, is a member of the crustacean family living in tropical and subtropical areas, that uses hydrodynamic cavitation in its everyday life.
This shrimp, with a size of no more than 5 cm, is characterized by a big claw, which is used as a gun, to stun and kill its preys, usually small fishes, shrimps and crabs, by using hydrodynamic cavitation.
Its enlarged claw, which can be half of its entire body length, can be opened and closed very fast, in less than a millisecond: its particular geometry generates a high velocity water jet, travelling at about 100 km/h; this high velocity jet produces a low pressure area and so a cloud of vapour bubbles which implode on its prey.
The cloud of bubbles implodes at about 3 mm far from the claw, when the pressure of the surrounding water increases.
When the bubbles collapse, local high temperature (several thousands of degrees) and high pressure (several thousands of atmospheres) are generated, leaving no hope to the prey: pressure and temperature are so high that sonoluminescence can happen for few nanoseconds.
Also known as sonic hunting, this is a way to stun and kill preys, without making use of direct physical contact.






10/09/2018
Extraction from cocoa bean shell waste with ROTOCAV cavitator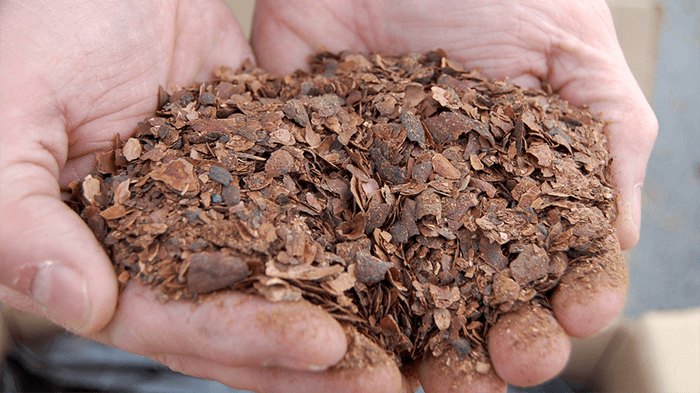 ---
Several tests have been performed to extract high valuable compounds from cocoa bean shell waste with the ROTOCAV hydrodynamic cavitator: results are reported on "Food Research International" and published on Sciencedirect, one of the most important international database for scientific articles.
The present work aimed to valorise cocoa shells, one of the main by-product of the roasting process, in order to enhance the effective extraction of high added value compounds.
It has been demonstrated that cocoa shells are a valuable source of antioxidant flavanols (catechin and epicatechin), methylxanthines (theobromine and caffeine), fatty acids and fibres. The extraction with the ROTOCAV hydrodynamic cavitator gave yields of 15,8% w/w in cocoa butter and 20,5% w/w in hydrophilic compounds, composed mainly of polyphenols and methylxanthines: these were the best results compared with ultrasound and conventional extractions, at laboratory scale.
Boost your extraction process and valorize waste with a ROTOCAV cavitator, choose the best extraction technology!






21/07/2018
What is cavitation and why should I need a ROTOCAV hydrodynamic cavitator?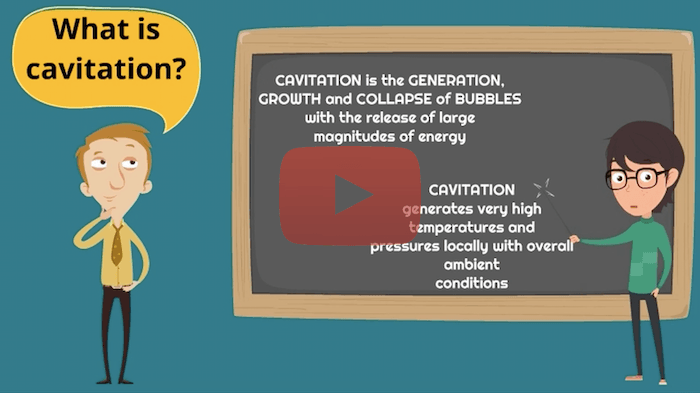 ---
A short video to explain what is cavitation and how our ROTOCAV hydrodynamic cavitator can improve industrial processes: if you need a boost for your process and you want to intensify it, to mix liquids with liquids, liquids with solids and liquids with gases you can exploit hydrodynamic cavitation generated by the ROTOCAV and increase process yields and your product quality.
Optimize mass transfer and diffusivity, promoting turbulence, cavitation and shear stresses, drastically reduce treatment times and hold-up, to obtain products of better quality! Watch the full video!






20/03/2018
Hydrodynamic cavitation to treat pigments for the paint and coatings industries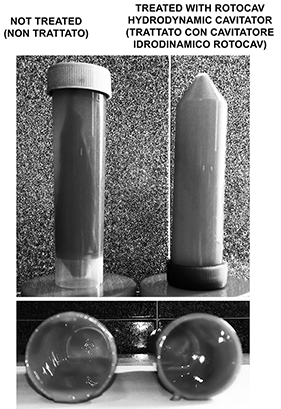 ---
Have you ever heard of the treatment of pigments and dyes by hydrodynamic cavitation for the paint and coatings industries? Do you work in such industries and you are experiencing issues in homogenization and dispersing? We tested our ROTOCAV hydrodynamic cavitator to treat pigments, to be able to obtain a more uniform particle size distribution in the nano and micron ranges and improve the quality of colors, paints and coatings.
Our test was able to decrease the particle size, with a narrow particle size distribution curve and to effectively homogenize and disperse the pigments into the liquid medium.
The treatment increased also the stability of the dispersion, with no sedimented residues and agglomerates after one month of storage.
Why treating pigments with hydrodynamic cavitation? Liquid jets and cavitational shear stresses are able to break up the solids and you will have better color saturation, stability, consistency and wettability!






19/01/2018
ROTOCAV compared to other commercial hydrodynamic cavitators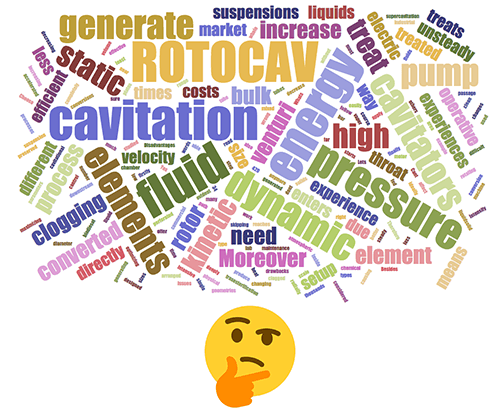 ---
Hydrodynamic cavitation can be generated by static or dynamic elements.
In static elements, such as venturi tubes or perforated plates, pressure energy is converted to kinetic energy, or in other words, the fluid at high pressure and low velocity experiences an increase in velocity and a decrease in pressure: ideally, when the pressure reaches the vapor pressure of the fluid, cavitation starts.
What's wrong with this setup? Let's follow the energy path of the fluid in a venturi tube: of course we need a pump to increase the pressure of the fluid before it enters the throat of the venturi, so electric energy is firstly converted to pressure energy, then to kinetic energy, when the fluid enters the throat, finally to pressure energy again, downstream the static element.
Disadvantages are evident: with this setup we will need to pump all the fluid to be treated at high pressure, at least in the range of 4-20 bar, and there are too many energy conversions, which means high operative costs.
Moreover, if we treat suspensions, liquids mixed with solids, we will experience clogging problems and high maintenance costs.
Can't we directly apply kinetic energy to the fluid without increasing its pressure?
Yes, sure we can! This is how dynamic elements work: we can pump a fluid to the dynamic hydrodynamic cavitator at near atmospheric pressure and generate cavitation by directly rotating the cavitational element, by this way we are skipping an energy conversion step to generate cavitation.
The fluid inside the cavitation chamber is accelerated by the rotor itself, so we have electric energy of the motor of the cavitator converted to kinetic energy to the fluid, which experiences cavitation.
Therefore, we don't need to pump at high pressure all the fluid and we will not experience anymore clogging problems due to static elements.
So, a dynamic hydrodynamic cavitator should be the right way to have an efficient process, why the ROTOCAV is better than the others?
Before optimizing our ROTOCAV cavitator we deeply studied what the market could offer and what were the drawbacks of the available cavitators.
Some dynamic hydrodynamic cavitators can be effective to treat liquids only, for example to heat clean fluids and to produce biodiesel by transesterification, because elements on the rotor can be easily clogged if they are fed with a liquid-solid suspension; moreover most of them do not treat the bulk of the fluid completely and they can generate only steady cavitation, which is far less intensive than developed unsteady cavitation, as it doesn't affect the liquid bulk too much with chemical and physical changes (you can read more here about different types of cavitation for different processes).
Moreover, some of the dynamic hydrodynamic cavitators on the market are difficult to scale-up, since the elements generating cavitation are radially arranged: this means that increasing the diameter of the rotor or changing the size of the elements for a scale-up will change the cavitation type, as the cavitation number will change too, causing loss of control on the process.
Besides these issues, it must be considered that some cavitators will also pump the treated fluid, due to their geometries, decreasing the available energy to generate cavitation, being less efficient.
Our ROTOCAV is a dynamic hydrodynamic cavitator: compared to a single passage in a static element it treats "thousands of times" the fluid in the same time, with the same energy; compared to the other dynamic hydrodynamic cavitators, it is able to generate unsteady developed cavitation and supercavitation, it treats the whole bulk of the fluid, it can treat suspensions with no clogging problems, it is not a pump, so all the energy is used to generate cavitation and it doesn't have problems for the scale up, since operative parameters of a lab machine can be preserved for all the available industrial sizes.
Our ROTOCAV was designed maximizing the area to generate cavitation: compared to the other dynamic hydrodynamic cavitators of the same size, volume of cavitation can be 3-4 times more!
Choose a ROTOCAV to intensify your process!






09/01/2018
Cavimax and ROTOCAV on Food and Drink Business Europe magazine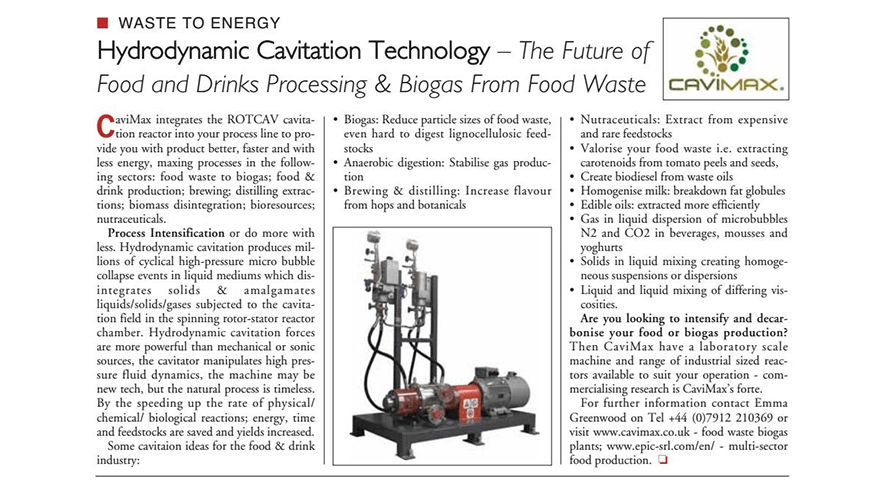 ---
Another article about Cavimax and ROTOCAV published on Food & Drink Business Europe, a senior management magazine, website and newsletter for food and drink manufacturers in the UK and Europe.
Food waste to biogas, food and drink production, brewing, distilling, extractions, biomass disintegration, bioresources and nutraceuticals: the ROTOCAV hydrodynamic cavitator intensifies all these processes easily, by speeding up the rate of physical, chemical and biological reactions; energy, time and feedstocks are saved and yields increased!
Read the extract from the article Hydrodynamic Cavitation Technology - The Future of Food and Drinks Processing & Biogas From Food Waste.






---