Blog - Cavitation and process intensification - p1
20/05/2021
Cellulose Recovery from agri-food residues by effective cavitational treatments
---
Residual biomass from agri-food production chain and forestry are available in huge amounts for further valorisation processes. Delignification is usually the crucial step in the production of biofuels by fermentation as well as in the conversion of cellulose into high added-value compounds.
High-intensity ultrasound (US) and hydrodynamic cavitation (HC) have been widely exploited as effective pretreatment techniques for biomass conversion and in particular for cellulose recovery.
Due to their peculiar mechanisms, cavitational treatments promote an effective lignocellulosic matrix dismantling with delignification at low temperature (35–50 °C). Cavitation also promotes cellulose decrystallization due to a partial depolymerization. The aim of this review is to highlight recent advances in US and HC-assisted delignification and further cellulose recovery and valorisation.
In this recent article (published in May 2021) you can read about the advantages of the ROTOCAV cavitator:
https://www.mdpi.com/2076-3417/11/10/4693





05/02/2020
E-PIC S.r.l. at Tomato World - Piacenza Expo, 20th-21st February, 2020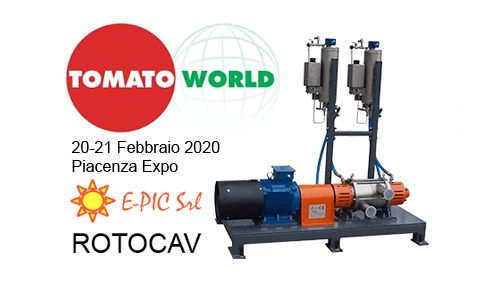 ---
E-PIC S.r.l. will be at TOMATO WORLD, the meeting dedicated to the professional system of industrial tomatoes, on 20th and 21st Febrary 2020, at Piacenza Expo (Italy).
The ROTOCAV hydrodynamic cavitator will be presented for applications in the agro-industrial sector, to open possibilities to introduce a new profit tool for businesses.
The primary goal is to arouse interest and curiosity to a technology able to maximize yields, reduce wastes and inefficiencies. The purpose is to prove that the ROTOCAV is able to exhaust the solid feedstock, to decrease operative costs and to achieve the maximum exploitation of the resources, so to get an economic gain from a waste.





26/12/2019
Extraction of polyphenols from basil using water with ROTOCAV cavitator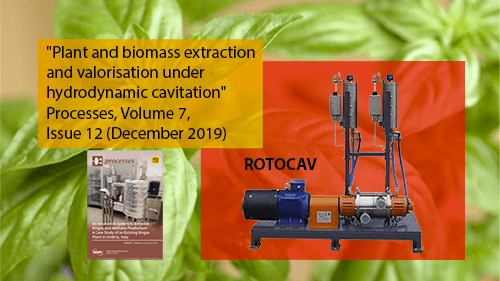 ---
Basil (Ocimum basilicum L.) contains many classes of polyphenols, such as flavonoids (quercetin, luteolin, apigenin and kaempferol), phenolic acids (rosmarinic, caffeic, caftaric and chicoric acids) and anthocyanins (in the form of cyanidin and peonidin glycosides), which act as antioxidants in the pharma and food industries, able to protect the cells membrane from damages caused by free radicals.
Extraction of polyphenols from the leaves and stems of industrial leftovers of basil (Ocimum Basilicum L.), using water as the only solvent, was performed by using an ultrasonic bath and the ROTOCAV cavitator pilot unit.
Although tests with the ROTOCAV hydrodynamic cavitator were carried out by applying a specific energy of 0,8 kWh/kg of solid, meaning more than 3 times LESS than the energy applied with ultrasounds (2,5 kWh/kg of solid), results showed a difference of only a few percentage points in total yield.
Moreover, it was observed that the resulted extract obtained with the ROTOCAV cavitator was more concentrated, in terms of mg of total polyphenols per g of extract.
As it was written in the recent article "Plant and biomass extraction and valorisation under hydrodynamic cavitation", the extraction of polyphenols from basil with the ROTOCAV cavitator gave extracts with high phenolic content and antioxidant capacity using only water in an easy, fast and economical process.
This device has therefore shown itself to be a feasible alternative for the green extraction of natural products on large scales.
"Plant and biomass extraction and valorisation under hydrodynamic cavitation" is freely available here.





10/07/2019
ROTOCAV hydrodynamic cavitator for the preparation of pig feed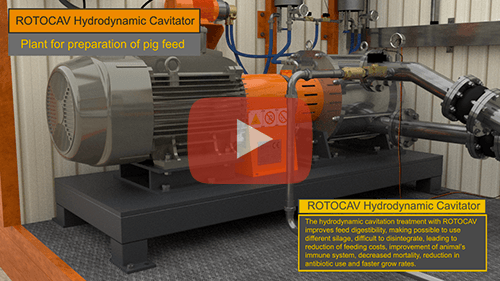 ---
An enhanced animal feed technology, a plug and play plant to treat silage and different feedstock for the preparation of pig feed and animal food in general.
The hydrodynamic cavitation treatment with ROTOCAV improves feed digestibility, making possible to use different silage, leading to reduction of feeding costs, improvement of animal's immune system, decreased mortality, reduction in antibiotic use and faster grow rates.
The feedstock is subjected to controlled hydrodynamic cavitation into the cavitation chamber.
Clouds of bubbles are cyclically generated at high frequency: by controlling hydrodynamic cavitation, the ROTOCAV is able to make these bubbles to implode on the solid feedstock, resulting in a perfectly homogenized mixture.
Find out all the advantages of the ROTOCAV hydrodynamic cavitator for the preparation of pig feed.





28/02/2019
ROTOCAV hydrodynamic cavitator for edible oils: degumming, alkali refining, bleaching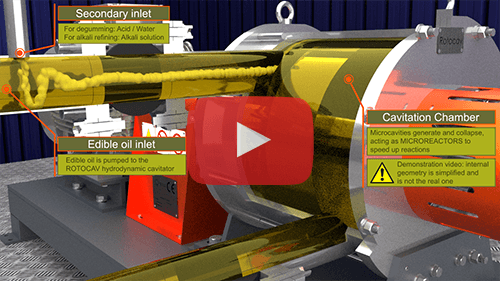 ---
Our ROTOCAV hydrodynamic cavitator can treat edible oils, maximizing reaction yields: this means better product quality and less amount of reagents.
The ROTOCAV cavitator is excellent in creating microbubbles inside its cavitation chamber, allowing a perfect homogenization that translates in increased surface area between the aqueous and the oily phases.
Mass transfer and diffusivity are enhanced and chemical kinetic is the only limit for the process.
ROTOCAV can be used for:
- Degumming (liquid-liquid reaction): oil is mixed with water and/or acid to hydrate phosphatides.
- Alkali refining (liquid-liquid reaction): degummed oil is mixed with an alkali solution to decrease the free fatty acid content and other impurities.
- Bleaching (liquid-solid reaction): edible oil is decolorized by typically adding and mixing clay or diatomaceous earth.





13/02/2019
ROTOCAV hydrodynamic cavitator for biomass pretreatment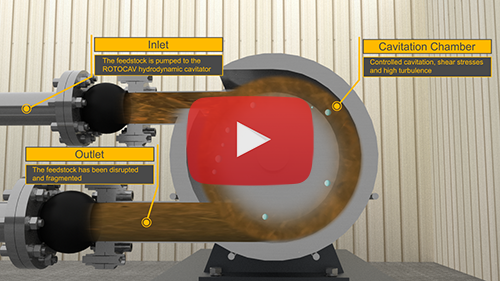 ---
A new video about our ROTOCAV hydrodynamic cavitator, to explain and animate what happens inside our equipment when you need to pretreat different biomasses, for example for biogas or bioethanol productions.
The feedstock is pumped to the hydrodynamic cavitator, then thanks to controlled cavitation generated inside the cavitation chamber, the biomass is subjected to a fast physical destructuration, making it easier to access its internal structure.
High speed microjects and shock waves are generated during asymmetrical violent collapses of microbubbles, giving a final homogenized product without large organic particles and long fibers.
ROTOCAV hydrodynamic cavitator is a green and sustainable process based on a non conventional technology for process intensification.





---