Blog - Cavitation and process intensification - p1
19/12/2017
Different types of cavitation for different processes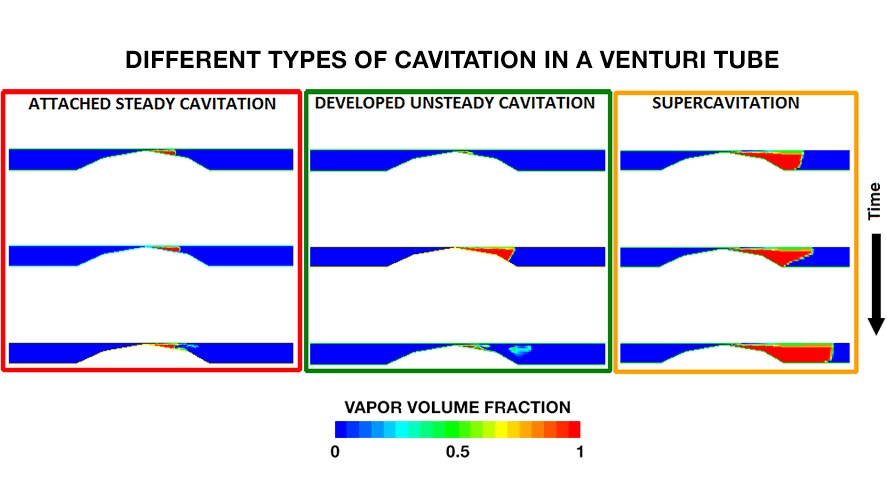 ---
Do you know that cavitation can be of different types? Not only it can be classified into different groups, depending on how it is generated, optical, acoustic, particle and hydrodynamic, but also it can manifest in different ways, depending on the fluid dynamic parameters of the fluid subjected to cavitation.
The three most important cavitation regimes are: attached steady cavitation, developed unsteady cavitation and supercavitation.
During attached steady cavitation a cloud of bubbles is attached to the element generating cavitation and its volume doesn't change too much with time: an external observer would see a sort of single bubble attached to the element; this type of cavitation is usually not wanted, as it doesn't affect the liquid bulk too much with chemical and physical changes.
Developed unsteady cavitation can change physical and chemical properties of the bulk, considering that at regular intervals a cloud of bubbles detaches from the element generating cavitation and implodes in the liquid, downstream: this generates local high temperatures and pressures, generating OH radicals if the bulk contains water.
Supercavitation happens when a large and stable bubble is attached to the element generating cavitation: inside this large bubble the physical and chemical properties of the medium don't change too much.
It is known that different processes can be intensified by hydrodynamic cavitation: some examples are biodiesel production, biomass treatment for biogas and bioethanol production, pig feed treatment, extraction of nutrients and active principles from plants, chemical reactions, mixing, homogenization, water treatment and many others.
What is important to understand is that not all the processes need the same type of cavitation: most of our competitors offer to the customers a universal unit, which is not able to maximize the potential of a specific process; in some cases the cavitator will not perform at all.
Supercavitation, for example, can give excellent results in some instances, very bad in others.
Our ROTOCAV hydrodynamic cavitator can fit different rotors and stators able to generate the right type of cavitation for your process!
Don't buy a universal equipment, contact us if you are interested in cavitation and you want to intensify your process: our team will fit the right machine for your process!






06/12/2017
Cavimax and ROTOCAV on Industrial process news magazine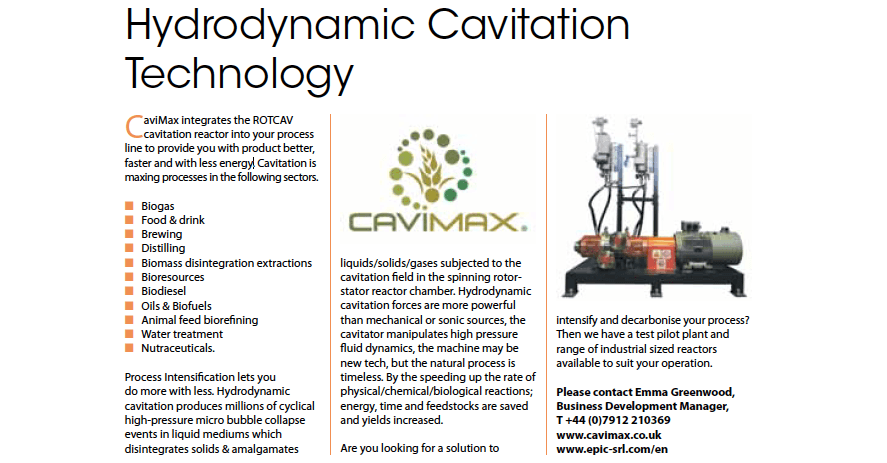 ---
Industrial process news magazine published an article about Cavimax and ROTOCAV hydrodynamic cavitator: Cavimax integrates the ROTOCAV cavitation reactor into process lines to provide better products, faster and with less energy. The hydrodynamic cavitator can be installed in different applications, biogas, food and drink, brewing, distilling, biomass disintegration, bioresources, biodiesel, oil and biofuels, animal feed, water treatment and nutraceutical industry. Energy, time and feedstocks are saved and yields increased!
Read the extract from the article Hydrodynamic Cavitation Technology.






27/09/2017
ROTOCAV for pigfeed - Hydrodynamic cavitation for more digestible pigfeed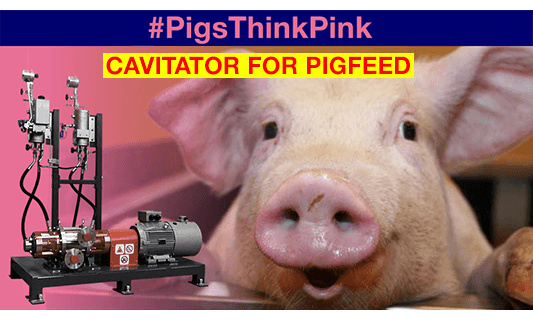 ---
Optimal and complete digestion of pigfeed with our ROTOCAV hydrodynamic cavitator: much more homogeneous and appealing pigfeed, together with increase of yields.
More homogeneous and digestible pigfeed thanks to hydrodynamic cavitation, which disgregates biomasses and silages, ensuring the same amount of nutrients for all the pig farm.
Moreover, the ROTOCAV hydrodynamic cavitator can control the size of the solids, avoiding too large or too small particles, achieving also maximum harvests.






26/09/2017
Valorization of winery residues with the ROTOCAV hydrodynamic cavitator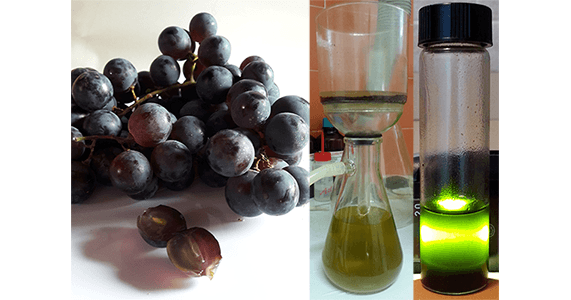 ---
Polyphenols are compounds that have antioxidant properties: found in natural plant food sources, such as vegetables, fruits, tea, wine, etc., there are thousands of different types of polyphenols.
These compounds are very important for human health, as they protect our cells from free radical damage, which can lead to tissue degradation.
We tested at E-PIC S.r.l. the extraction of polyphenols from grape seeds resulting from the cold pressing for oil extraction.
After the traditional cold pressing step, the resulting oil contains only 262 mg/kg of total polyphenols.
By feeding the solid matrix resulting from the cold pressing of the grape seeds to the ROTOCAV hydrodynamic cavitator we obtained an oily phase with 11.600 mg/kg of total polyphenols and a solid settled phase with 24.900 mg/kg of total polyphenols!
This is another example of extracting high value products from wastes!






26/09/2017
Extraction of starch and proteins from corn fibers by ROTOCAV hydrodynamic cavitator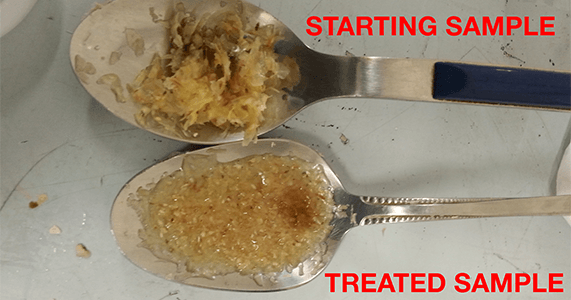 ---
Starch is a polysaccharide consisting of glucose units and glycosidic bonds. It can be found in green plants and it is contained in large amounts in staple foods like potatoes, wheat, barley, corn, rice and manioc.
Starch can be used for non-food applications, such as an adhesive in the papermaking process, as an additive for food processing (thickeners and stabilizers), as an excipient in the pharmaceutical industry and in many other industries.
Our tests on the ROTOCAV hydrodynamic cavitator show that extraction of starch from corn fibers is possible in one single passage.
Quantitative analyses were performed on collected samples by an external laboratory, qualitative iodine tests were performed during the tests.
The mechanical effect of cavitation promotes a greater penetration of water into the structure of the corn fibers, increasing the release of starch and proteins. The generation of local heat during the bubble collapse also increases the diffusion of the extract.






01/07/2017
Easier operation of your digester and more biogas produced with our ROTOCAV cavitators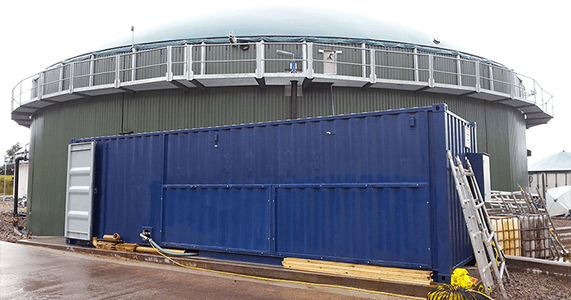 ---
Install our hydrodynamic cavitators next to your biogas plant and increase your biogas and biomethane production: unlock the potential of your existing plant! Powerful controlled hydrodynamic cavitation means no more floating layers and superficial solid crusts, lower amount of hydrogen sulfide, effective disintegration of biomass and organic lumps, lower viscosity and less power required to pump and mix the digestate, decreased retention time of biomasses. A Cavimax plug and play unit with our cavitators is ready to be installed and operated, all the parameters are remotely monitored, so to always have the maximum performances of your digesters! No more complex ultrasounds systems and generators to disintegrate the biomass, fit our ROTOCAV and instantly intensify your biogas plant!






---