Different types of cavitation for different processes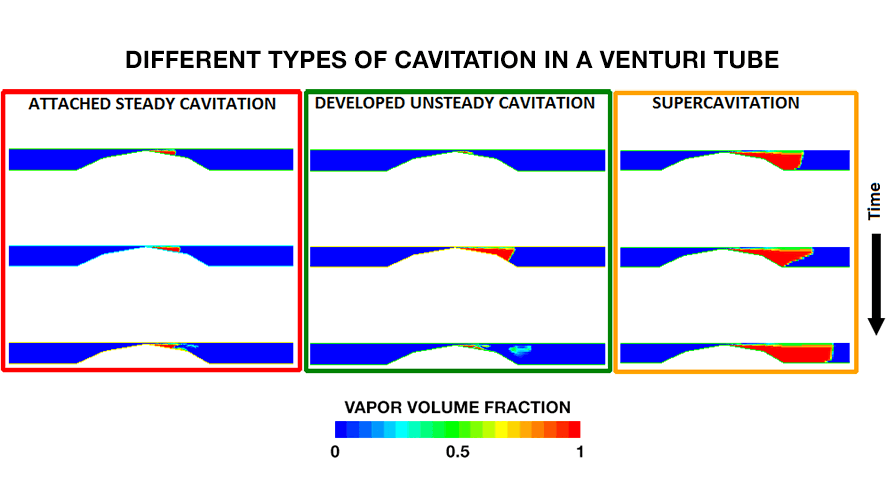 ---
Do you know that cavitation can be of different types? Not only it can be classified into different groups, depending on how it is generated, optical, acoustic, particle and hydrodynamic, but also it can manifest in different ways, depending on the fluid dynamic parameters of the fluid subjected to cavitation.
The three most important cavitation regimes are: attached steady cavitation, developed unsteady cavitation and supercavitation.
During attached steady cavitation a cloud of bubbles is attached to the element generating cavitation and its volume doesn't change too much with time: an external observer would see a sort of single bubble attached to the element; this type of cavitation is usually not wanted, as it doesn't affect the liquid bulk too much with chemical and physical changes.
Developed unsteady cavitation can change physical and chemical properties of the bulk, considering that at regular intervals a cloud of bubbles detaches from the element generating cavitation and implodes in the liquid, downstream: this generates local high temperatures and pressures, generating OH radicals if the bulk contains water.
Supercavitation happens when a large and stable bubble is attached to the element generating cavitation: inside this large bubble the physical and chemical properties of the medium don't change too much.
It is known that different processes can be intensified by hydrodynamic cavitation: some examples are biodiesel production, biomass treatment for biogas and bioethanol production, pig feed treatment, extraction of nutrients and active principles from plants, chemical reactions, mixing, homogenization, water treatment and many others.
What is important to understand is that not all the processes need the same type of cavitation: most of our competitors offer to the customers a universal unit, which is not able to maximize the potential of a specific process; in some cases the cavitator will not perform at all.
Supercavitation, for example, can give excellent results in some instances, very bad in others.
Our ROTOCAV hydrodynamic cavitator can fit different rotors and stators able to generate the right type of cavitation for your process!
Don't buy a universal equipment, contact us if you are interested in cavitation and you want to intensify your process: our team will fit the right machine for your process!